The Avantgarde system allows the mounting of metal plates bent and slotted.
The plates, having a very small thickness, ensure a great lightweight of the cladding.
The metal surface may be anodized or painted in order to obtain the desired coloring and finish.
Materials
The available materials are: aluminum, composite aluminum, stainless steel, sn. steel, copper and zinc-titanium.
Dimensions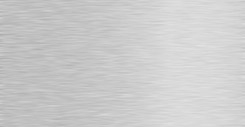 49x25,4x2,5 cm
Finishes
The available finishes for the sheets of metal are all those permitted by the techniques of anodization. It is also possible to paint the plate.
Below are some examples.